Particle Network Open-Sources Its 4337 Account Abstraction Bundler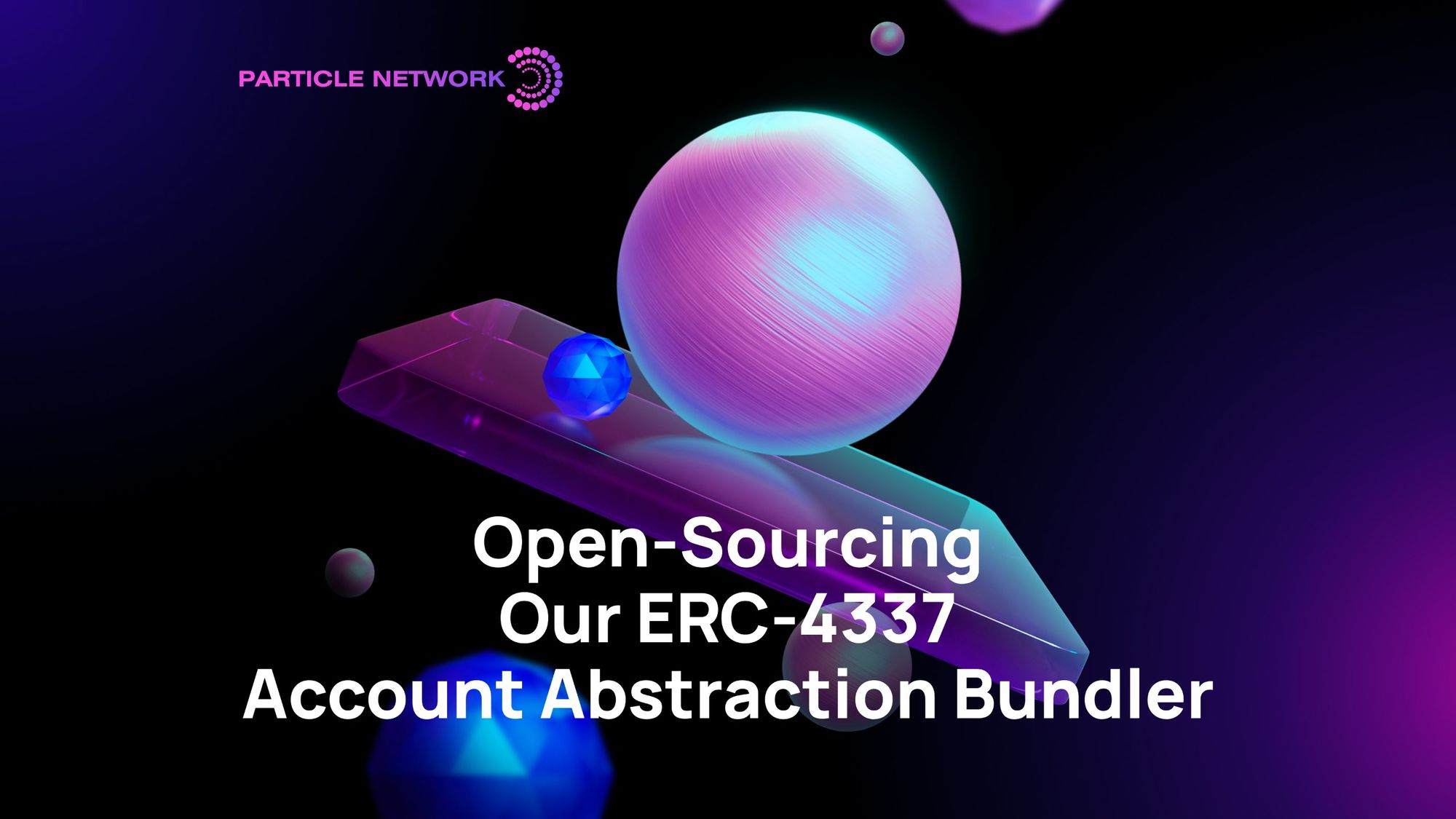 Table of Contents:
Introduction
Earlier last month, we announced the launch of Particle Network's v2, a significant upgrade aimed at establishing an Intent-centric, Modular Access Layer of Web3. In this announcement, we introduced notable features such as zkWaaS (zero-knowledge Wallet-as-a-Service) and unveiled our innovative Intent Fusion protocol.
As the EVM ecosystem irreversibly migrates towards Smart Accounts, and with Account Abstraction playing a significant role in our v2's design, we continue to develop and contribute in the Account Abstraction area. Today, we're thrilled to share yet another significant development with you: we are now open-sourcing the Particle Network Bundler Typescript implementation, the first version of our account abstraction bundler!
What is Particle's Account Abstraction Bundler
The Particle Bundler is a specialized tool designed to make smart contracts and transactions work smoothly using the ERC-4337 standard.
ERC-4337
ERC-4337 represents a comprehensive framework for implementing account abstraction across various EVM chains. This standard enables developers to harness the power of account abstraction without necessitating any fundamental alterations to the core protocol. Instead, it relies on external infrastructure components like Bundlers to streamline its functionality.
Bundler
An ERC-4337 Bundler acts as a transaction aggregator that collects individual user operations from a specialized mempool, bundles them together, and submits them as a single transaction to the network, enabling enhanced account abstraction on Ethereum and other EVM networks. It is a core infrastructure component for enabling account abstraction on Ethereum Virtual Machine (EVM) networks.
The Particle Bundler is a fully compliant, feature-rich, high-performance, infinitely scalable 4337 Bundler implementation, serving as a key infrastructure to facilitate the mass adoption of Smart Accounts.
Advantages of the Particle Bundler
Particle's Bundler offers several compelling advantages, making it an essential component for the ERC-4337 ecosystem:
Seamless User Operations: We have implemented the persistence of User Operations, Smart Account Nonce management, and automatic batch sending of User Operations, among other features. The Particle Bundler simplifies the transaction process for users, streamlining the submission of User Operations. This enhances the accessibility of ERC-4337, making it more user-friendly and approachable for a broader audience.
Smart Ops: We are well aware of the importance of stable and reliable operational features for developers, so we have implemented functionalities like Bundler Signer configuration, automatic recharging, automatic blocking and recovery, and automatic monitoring alerts, essentially enabling easy management and automatic expansion. The era of multi-chain Web3 is still unfolding, so we have simplified the process of deploying to new chains down to the execution of a single command with minimum additional configurations. Thanks to this, support for a new chain can be completed within 5 minutes.
High Performance: Particle's Bundler is engineered for optimal performance and is capable of handling demanding workloads efficiently. Leveraging proprietary technology and optimization techniques, the Bundler ensures transactions are processed swiftly and effectively.
High Stability: Stability is a hallmark feature of Particle's Bundler. Built with reliability in mind, it operates seamlessly even under challenging conditions. Its robust architecture and adherence to best practices in infrastructure management contribute to its exceptional stability, providing users and developers with a dependable platform to solve their needs.
As a high-performance, highly stable Bundler implementation, we also have a wealth of rich features:
Features
All standard RPCs supported.
Configurable RPCs, Signers, etc.
Support for any chain.
UserOp Persistence.
UserOp Concurrent Handling.
Built-in Gas Price Oracle.
Multi-Bundler Signers Manager.
Auto-fulfill bundler Signers' balance.
Auto-retry for failed transactions from a Bundler Signer account.
Returns the correct transaction even when affected by MEV.
Deploy new chains with one command.
Get started
You can get started through this GitHub repository: https://github.com/Particle-Network/particle-bundler-server
We also have official Bundler Endpoints supporting practically all mainstream public chains. If interested, you can start directly from our documentation: https://docs.particle.network/developers/node-service/evm-chains-api/bundler-rpc
Operational data
Our Bundler has played a key role in the large-scale adoption of account abstraction across numerous public chains:
opBNB:

opBNB and Particle Network have achieved an extraordinary milestone, processing over 150,000 account abstraction (AA) User Operations.
At the same time, by working together with us, opBNB was able to set new records and currently holds the title of the fastest chain to cross 100,000 AA User Operations, accomplishing this remarkable feat in just 4 days.

Scroll Sepolia :

Scroll Sepolia has soared to new heights by recording a staggering 50,000 User Operations.This achievement underscores its increasing activity and robust usage within the blockchain ecosystem.

Combo Testnet:

Combo Testnet has celebrated a significant triumph, surpassing 50,000 User Operations.This milestone demonstrates its growing adoption and transaction volume, positioning it as a thriving platform.
These accomplishments reflect the growing adoption and utilization of Particle's account abstraction bundler across different blockchain ecosystems, demonstrating their capacity to handle substantial transaction volumes efficiently.
Particle's Modular AA Wallet-as-a-Service
At Particle Network, modularity is one of our fundamental principles. Particle's modular AA WaaS abstracts and encapsulates Particle's Bundler, Paymaster, and Smart Account implementation into three separate modules within our stack, allowing developers to freely combine them. As a result, developers can provide users with keyless logins (through Particle Auth using social logins + MPC-TSS), gas sponsoring, batched transaction functionalities for Smart Accounts, and a complete modular wallet, ensuring both a seamless experience and efficiency.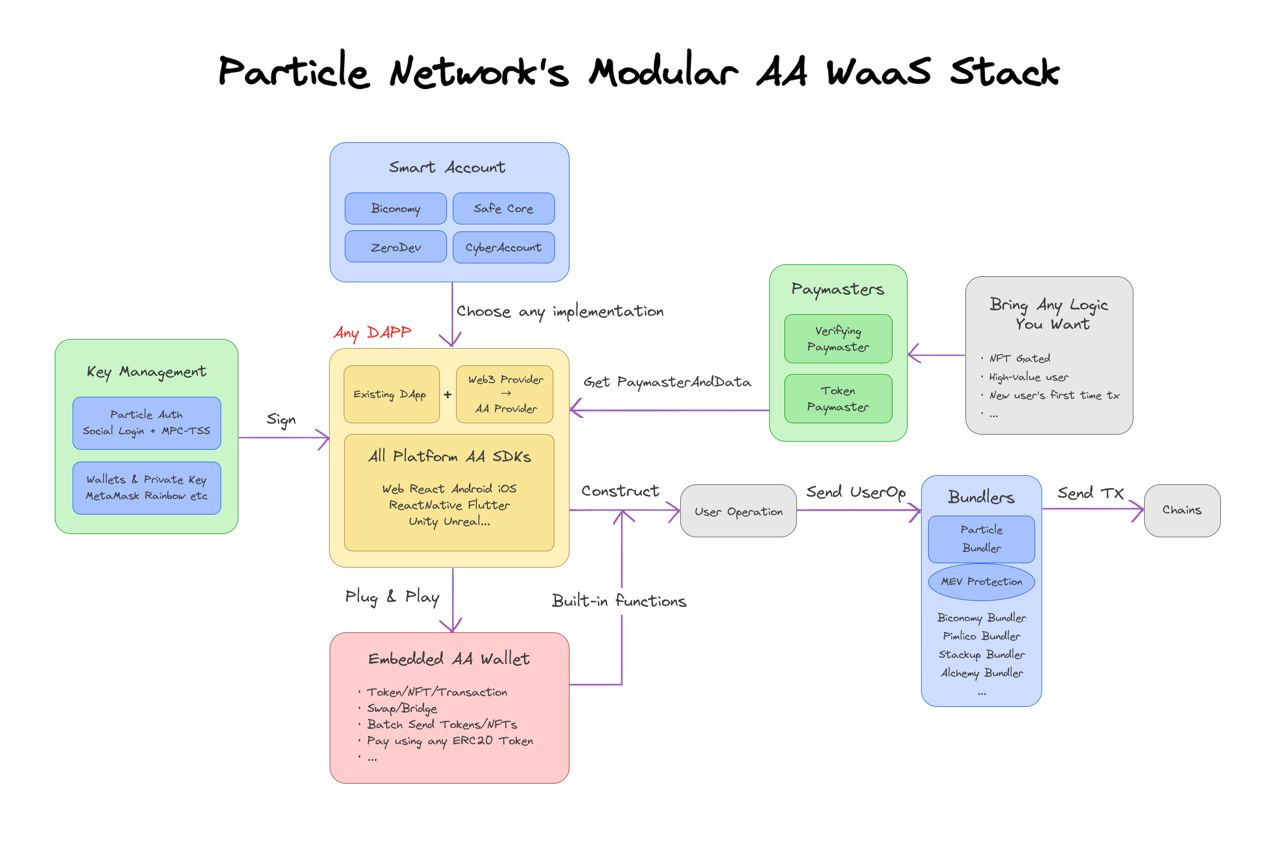 Particle provides a full-stack SDK on multiple platforms, including web, mobile, and gaming engines, to enable developers to seamlessly integrate with any platform.
Feedback
We believe in the power of collaborative development and warmly welcome contributors who are as passionate about 4337 as we are. We invite you to submit issues, pull requests, and forks! To contact go to:
Twitter: https://twitter.com/ParticleNtwrk
Let's build something amazing together! 🚀
---
Particle Network's Modular Smart Wallet-as-a-Service solutions are 100% free for developers and teams. If you have any inquiries about integrating with us, feel free to book a meeting with one of our agents!
---
About Particle Network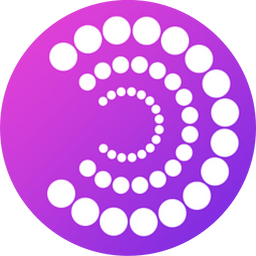 Particle Network is building the Intent-Centric Access Layer of Web3. Particle's Modular Smart Wallet-as-a-Service tools allow developers to tap into MPC-TSS and social logins to enable self-custodial, dApp-embedded wallets accessible through users' Web2 accounts. This also allows them to tap into ERC-4337 account abstraction, enabling a seamless experience with maximum flexibility. Particle's next evolutionary steps include the introduction of Omnichain Abstraction, a Confidential zkStack, and the Intent Fusion Protocol, elevating users' experience within dApps and paving the way for mass Web3 adoption.
About the author(s)