Revolutionizing Web3 Community Engagement: How Moongate Partners with Particle Network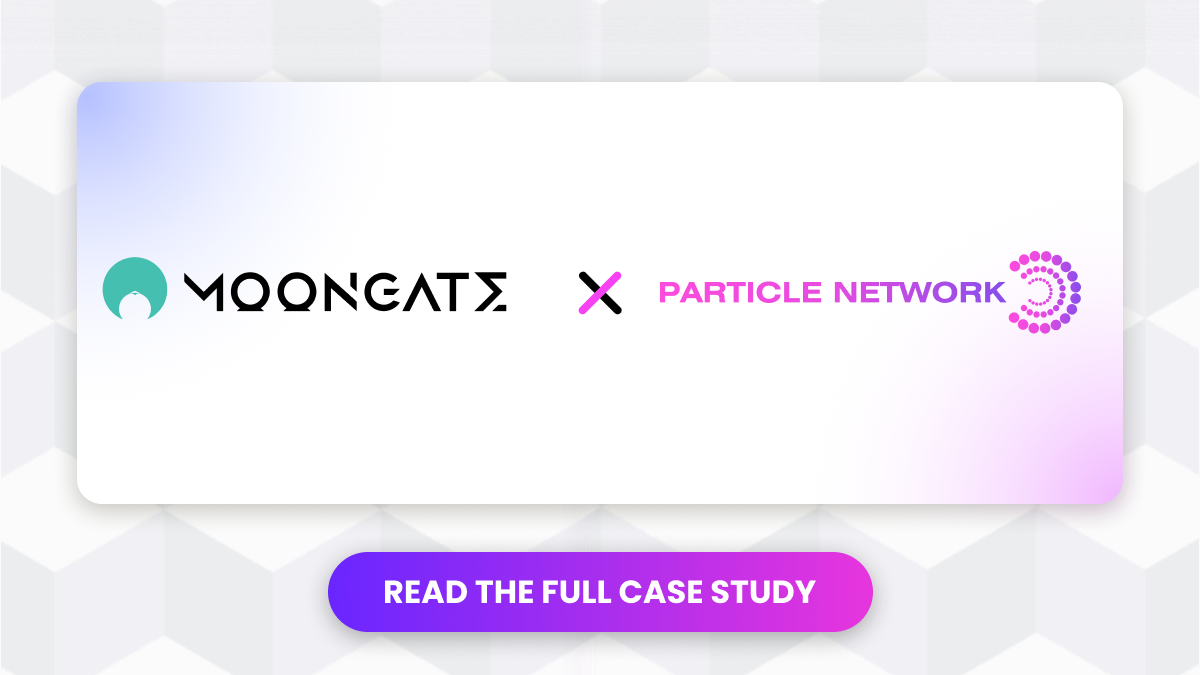 Table of Contents:
Moongate stands as a notable web3 utility platform, simplifying NFTs for broader acceptance. With its intuitive no-code tool, brands and businesses can easily craft, distribute, and embed NFT tickets and memberships, enhancing engagement and increasing customer lifetime value.
Moongate's growth has been undeniable, highlighting its strong alignment with market needs. To date, Moongate has successfully rolled out 70+ activations and has a promising line-up of partnerships ahead, including major music festivals, conferences, and collaborations with leading crypto firms and conglomerates.
Industry & Use Case
Industry: Web3 Community Engagement & Event Management
Use Case: NFT tickets and memberships for exclusive experiences and benefits
Chains: Ethereum, Polygon, Avalanche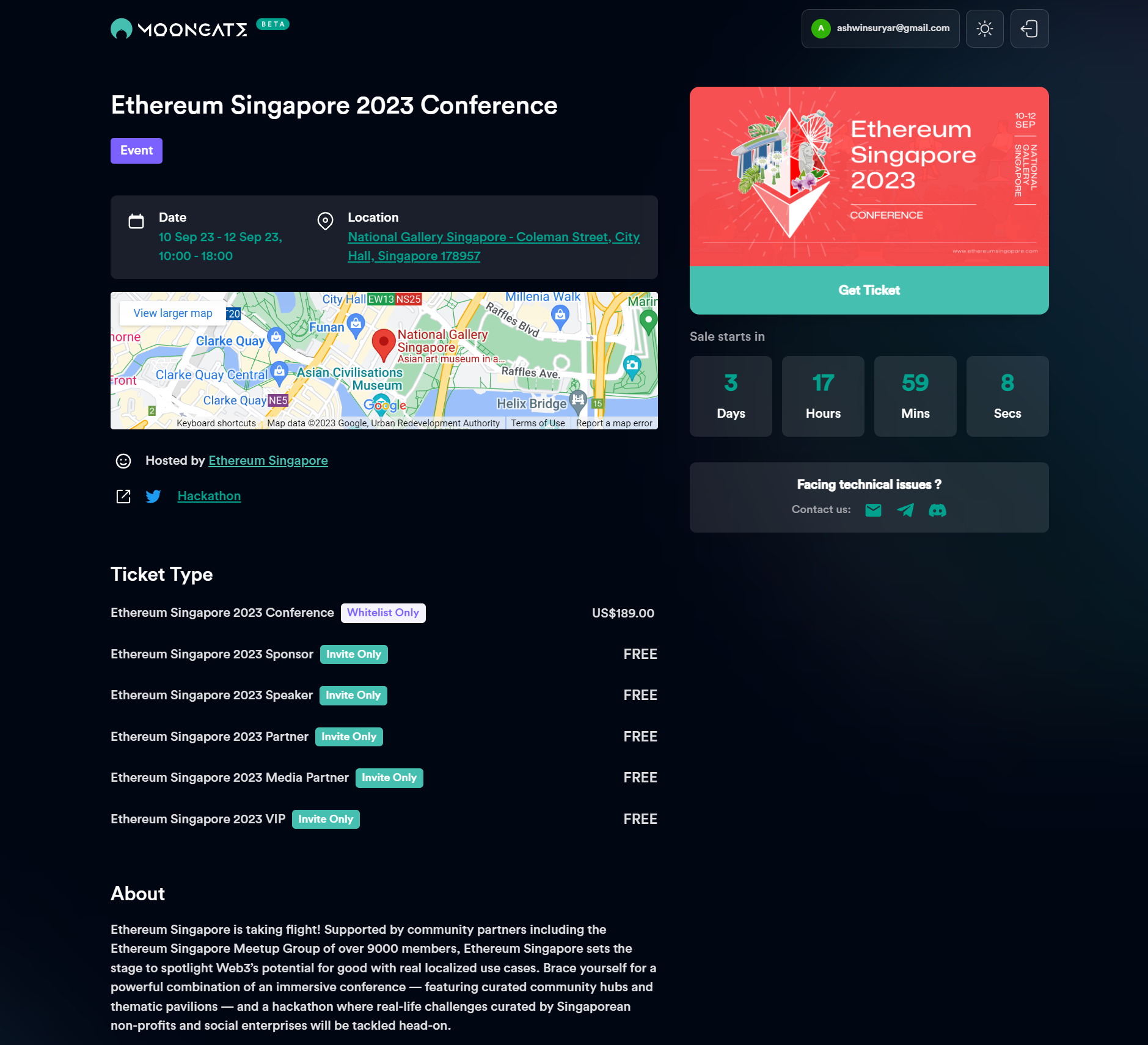 Here's where Particle Network's solutions complements Moongate's mission.
Key Considerations Moongate Aimed to Address:
Moongate's ambitious goal to redefine Web3 community engagement had its hurdles:
- Expanding Accessibility for NFT Ticketing and Memberships: Bridging the gap between traditional event attendees and the web3 community was paramount to ensure that even those new to Web3 could effortlessly access the NFT tickets and memberships
Particle Network's Web2 Social Log-in to Web3 Wallet creation tool was instrumental in achieving this. By streamlining the user experience, Particle's solutions allowed a seamless transition from familiar Web2 interfaces to Web3 functionalities, thus making NFT ticketing more approachable and user-friendly.
Streamlined Membership Management for Users: We get it, juggling different NFT tickets and memberships can be a handful, especially when each has its own perks and experiences.
With Particle Network, Moongate users can now easily bring all their NFT tickets under one roof — through the Particle Wallet . This little tweak just makes life a bit easier, allowing users to keep track of their memberships all in one place.
Ensuring Security for High-Value Tickets & Memberships: With tickets and memberships often carrying hefty price tags, sometimes reaching thousands of dollars, there's no room for taking chances on security. Moongate understands the weight of this responsibility.
To make sure that every transaction is both smooth and rock-solid in security, Moongate has integrated the MPC-TSS Particle Wallet SDK. This way, users can rest easy knowing their valuable purchases are well-protected.
"Working with Particle Network felt like finding a missing puzzle piece. Their Web3 tools just clicked with our goals at Moongate, helping us craft a space where everyone can join in comfortably and securely." — Jon, CEO at Moongate
Solution — Why Moongate Chose Particle
Moongate's partnership with Particle Network was driven by three fundamental factors:
- Enhanced User Experience: Particle's Authentication (Web2 Social Log-in to Web3 Wallet creation) and Wallet-as-a-Service (MPC-TSS) tools made the onboarding process a breeze.Users just have to sign into Moongate with their Web2 social login and a Web3 wallet will be automatically generated. Now, whether you're a Web2 enthusiast or a Web3 pioneer, Moongate's offerings are just a click away.
High Customizability & In-depth NFT Wallet Features: Particle Network provides a flexible toolkit, allowing Moongate to fine-tune the wallet experience. The in-depth NFT features in Particle's embedded wallet solution ensure Moongate users have a smooth and efficient management of their NFT tickets and memberships.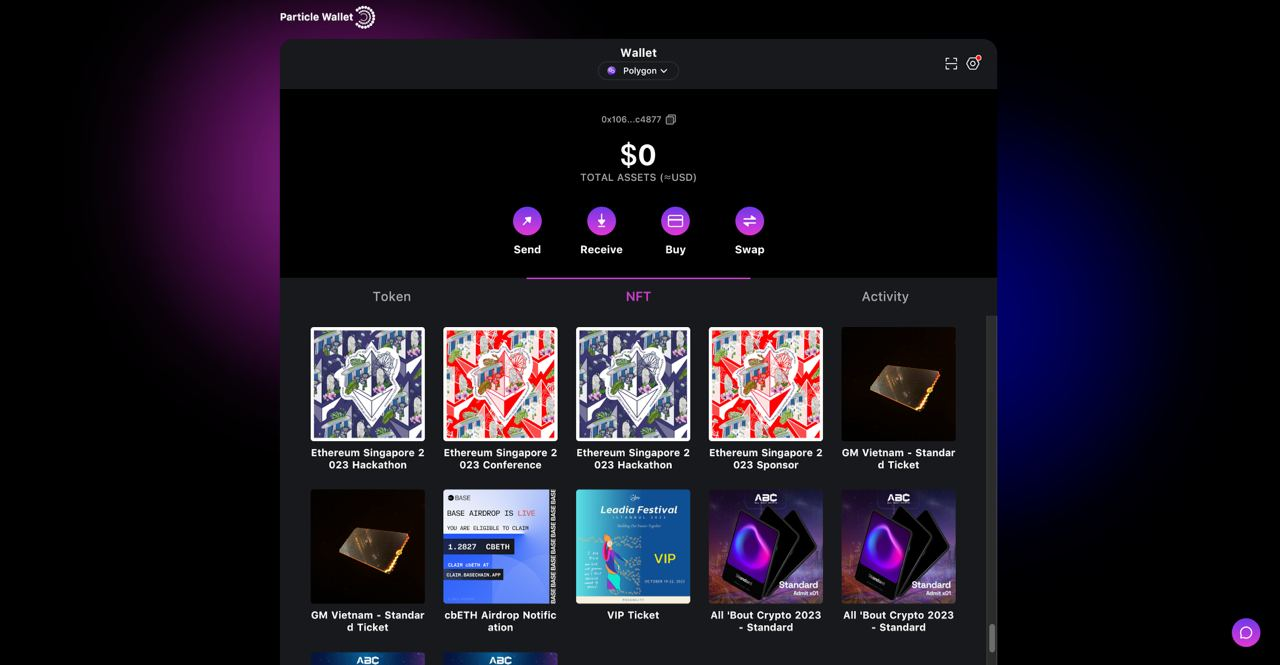 Effortless & Swift Integration: Particle Network's plug & play solution, combined with its precise developer documentation and user-centric SDK, made it straightforward for Moongate to incorporate the toolkit. This ease of integration allowed Moongate to quickly enhance their platform's capabilities without unnecessary delays.
The Results? Enhanced Engagement and NFT Sales with Particle.
Moongate, in partnership with Particle Network, has seen a staggering 150% increase in community engagement within just a few months. Exclusive NFT ticket sales soared by 120%, and user trust metrics are at an all-time high. Experience it firsthand here: https://www.moongate.id/
Conclusion
Moongate and Particle Network, leaders in their respective domains, have come together to redefine the future of Web3 community engagement.
Their synergistic collaboration showcases a future where NFT memberships and ticketing aren't just tech buzzwords but become integrated, user-friendly tools that enrich the experiences of both regular users and Web3 enthusiasts.
By bridging advanced technology with intuitive design, they're ensuring that the future of event engagement is not only innovative but also inclusive and accessible.
Building Web3 Applications with Ease
Particle Network's tools enable developers to harness the power of Web3. With features like plug-and-play Web2 login integration, simplified wallet creation, and functionalities like on/off-ramp and token swaps, EthSign's integration is more than a new solution; it's a leap forward in the industry. This groundbreaking collaboration represents an inspiring vision of the future of legal technology and provides a roadmap for continued innovation and growth in the space.
---
Particle Network's Modular Smart Wallet-as-a-Service solutions are 100% free for developers and teams. If you have any inquiries about integrating with us, feel free to book a meeting with one of our agents!
---
About Particle Network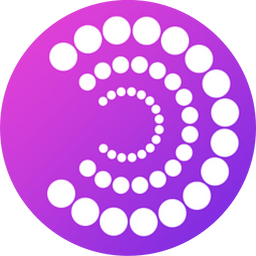 Particle Network is building the Intent-Centric Access Layer of Web3. Particle's Modular Smart Wallet-as-a-Service tools allow developers to tap into MPC-TSS and social logins to enable self-custodial, dApp-embedded wallets accessible through users' Web2 accounts. This also allows them to tap into ERC-4337 account abstraction, enabling a seamless experience with maximum flexibility. Particle's next evolutionary steps include the introduction of Omnichain Abstraction, a Confidential zkStack, and the Intent Fusion Protocol, elevating users' experience within dApps and paving the way for mass Web3 adoption.
About the author(s)